Robert Lowell
Back to Confessional Poetry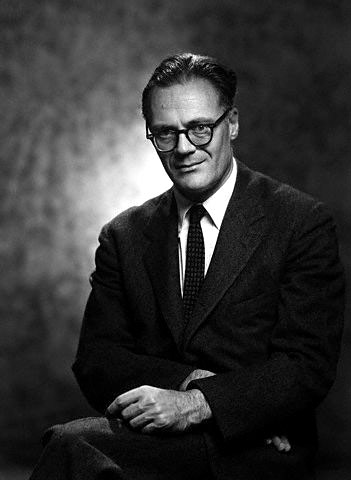 In 1917, Robert Lowell was born into a distinguished family in Boston Massachusetts. Per his family's lofty expectations of him, Lowell attended Harvard University for two years. He transferred to Kenyon College for his last two years of undergraduate studies at the advice of his psychiatrist concerning his mental breakdowns and manic episodes. After a dramatic religious conversion from the Episcopal faith to Catholicism, Lowell identified as a conscientious objector in WWI. He was imprisoned for five months for his unpopular political views and his refusal to join the armed forces. He would marry his first wife, fiction writer Jean Stafford after graduating from Kenyon College with a summa cum laude degree in classics.
Although Robert Lowell's greatest volume is considered to be Life Studies, his true strength lies in the vast variety of his works. His early poems are controlled by traditional forms, meter, and rhyme, but, as his writing style developed, his poems relaxed into more flexible forms and meters. In the 1950's, the tone of his work developed more into that of Confessional Poetry, as he used the medium of poetry to continue on life-long exploration of "the self" through words. Throughout his life, Lowell's writing and poetry were influenced by his many connections and friendships with his fellow poets, such as Randall Jarrell and Peter Taylor whom he met as Kenyon College, and mentor Allen Tate. His work was also influenced by contact with the unconventional styles of Allen Ginsberg and William Carlos Williams.
His life was cut short in 1977 in a car accident in a taxi while he was returning to the home of his second wife, Elizabeth Hardwick, after breaking up with his third wife, Caroline Blackwood.
Sources
"Robert Lowell Biography." Famous Poets and Poems - Read and Enjoy Poetry. 2010. Web. 17 Oct. 2010. <http://famouspoetsandpoems.com/poets/robert_lowell/biography>.
"Robert Lowell." The Poetry Foundation. 2010. Web. 17 Oct. 2010. <http://www.poetryfoundation.org/bio/robert-lowell>.

Back to Confessional Poetry