L=A=N=G=U=A=G=E Poetry
(Novas)
Introduction: What is Language Poetry?
Language poetry began in the late 1960's and early 1970's as a postmodern style that used an avant-garde method of writing to change the way readers interacted with their poetry. Some of the earlier publications for Language poetry came from This Magazine in San Francisco which was edited by Robert Grenier for the first three issues and Barrett Watten edited the later issues. Though the magazine didn't intend to be a language poetry publication it did however, publish many poets and writers that became, or where already, associated with the "language school". There was no one publication that stood as the marking post for the beginning of language poetry but a collaboration of various journals. At the time language poetry was not so named but vaguely referred to as a group that "focused on language" with the unionizing goal being to change the readers interaction and response to the poems. Ron Silliam's poetry newsletter Tottel's significantly helped the movement by writing essays about the movement including "The New Sentence" and published authors of language poetry. Ron Silliam also published a Language poetry anthology in 1986 called In the American Tree. The first major anthology of Language Poetry however was published by Open Letter, a Canadian journal, and edited by Steve McCaffery in 1977 called The Politics of the Referent. Edited by Charles Bernstein and Bruce Andrews, in 1978 the magazine L=A=N=G=U=A=G=E was started in New York. It published 13 issues in poetry and essays. It was this magazine that became more influential and helped to coin the name of the writing style.
The styles of Language poetry worked against many of the conventions of poetry and writing. At times, the poems would lack a story or narrative and either is a stream of consciousness, or is fragmented thoughts that can sometimes appear as nonsense. Language poets did not typically focus on self expression, but detached themselves from their work and acted only as the means by which the words are created. It was the way the words were presented that was to be intriguing, not the author. Form wise, Language poetry has a lot of control in that it has no control. Language poetry does not just limit itself to paper, but mixes into various forms of media such as music, digital media, and work that blurred the line between art and poetry.
Essayist named Hank lazer described it as: "language writing can be seen as an oppositional literary practice that questions many of the assumptions of mainstream poetry. Instead of considering poetry as a staging ground for the creation and expression of an 'authentic' voice and personality, language poetry arises out of an 'exploded self,' blurs genre boundaries...and seeks actively collaborative relationships between reader and writer."
Language Magazine:[1]
--Maryanne 22:35, 6 November 2010 (UTC)
Defining Elements
In The New Sentence, Ron Silliman linked literary "realism" and adherence to form with capitalistic politics. He defined the "new sentence" as one that could undermine the built-in meanings expected from prose by blurring the boundaries between writer and reader. The "new sentence," he said, was one that could minimize the "syllogistic" meaning, by changing the structure of the sentence. (Poetry, Silliman)
Silliman defined the "new sentence" as having:
Intensity, power and a charged use of linguistic units.
Recurrence and parallel structure
A common image bank
Secondary syllogistic movement and systematic blocking of primary syllogistics
Varied tenses and ambiguity
Importance, tension and exploration of hidden capacities of blank space. (Poetry, Silliman)
Al Filreis, instructor of Modern & Contemporary American Poetry at the University of Pennsylvania tells his students that, although language poets often combine a number of techniques and beliefs that they do not always agree upon. There are a few basic principles that define Language Poetry. The following bulleted list is constructed from an audio recording of his "introduction to the language poetry movement" lesson. http://writing.upenn.edu/~afilreis/88v/chap900a.html

High culture/low culture distinction is false
Mixed genres
Book, arts and typographical innovations
Anything can be subject matter
The self is a construct
Self is not natural or biological
Cultures are constructions
Actions of cultures are not separate – they do things to one another
Subject-object relations are really subject-subject relations
There is no natural speech
Only artificiality
Speech is naturalized as natural
Words are words
Symbols not things – not the things being described
Machines of construction
Medium becomes the message
Series is not essence
No essential things in a series or list
Things in relation become the message
Experience is not uncontradictory
A rubric
Not narrative but anti-narrative
Can be reordered and redefined
Cause and Effect is a political construction
Created – not natural
Logic, linguistics, history and autobiography invent cause and effect – they do not find it
Oppressive ordering
There is no cause and effect - only chance, random construction of self
Take no syntax for granted
Innovation of word, symbol and sentence
Break grammar laws
Subject shift is good – shift of pronoun takes focus from narrator
Hypertext is good
Electronic writing spaces cause nomadicism
Dislocation of self from stuck position in time and space brings change/enlightenment
Many language poets are net savvy
Down with intellectual property
No one owns the canon – or any other text
Borrow, steal, quote, twist, distort
Parody, quotation, imitation and theft
Collaboration – no individual credit
Surfaces are deep
Depth is no deeper than surfaces
Confession has no point
There is no core of true self – only construction language and things about one
Blurring of beginnings and endings
Language poets often leave off where traditional poets start
Warming up to the subject is the subject matter
No visible construction or form based upon subject matter
Avoidance of subject matter - end when get to the subject matter

In summary, language poets force the reader to question who creates reality and how it is defined. In an effort to address literary and socio-political issues, language poets utilize a variety of techniques that attempt to rewrite history, text, narration and reality, while simultaneously dealing with the everyday and allowing the reader to actively construct meaning from the text. Further, language poets employ various theories and styles that negate narrator, resulting in an ambiguity that forces the words to take more of their meaning from the reader. While language poetry can come across, at times, as strange, confusing or irrelevant, as in the case of sound, letter and word rearrangements, at its core, these rearrangements strive for relevance, by asking readers to question what is real. (Filreis)
--Madonnawilt 03:41, 6 November 2010 (UTC)
The Poets
Explore Poets Forum[2]
-Archived readings and free downloads from previous forums
---
Language poetry has one goal: to change the way the reader interacts or responds to the poem. Outside this goal there are many branches of styles. Though Language Poetry strays from the conventions of traditional poetry and does not always focus on personal expression, the many styles that are introduced to the genre are almost all unique to their author. No two language poems can be approached the same and each are thumbprints of their creators. Each poet has his or her own style and approach to Language Poetry, making the possibilities expansive and the definition of a language poem, broad.
---
Listen to Penn Sound recording of webcast Symposium on Contemporary Poetry, presented from the Writer's House on December 7, 1999, featuring Ron Silliman, Jena Osman, Bob Perelman and Brian Kim Stefans answering caller questions. [3]
---
Ron Silliman
The writer of The New Sentence, a Critical work, Ron Silliman was an author that helped to define what the Language poetry was all about by explaining how it could be used to diverge from the conventional rules expected of prose. Ron Silliman has publish many works and has been apart of many journals but most of his mark is made from his association with Language Poetry. In 1978 he edited the In the American Tree anthology which still continues today. He is the author of a newsletter that started in 1970 called Tottel's which has contained work on the movement of Language poetry and poets. He has worked at such universities as San Francisco State University, University of California San Diego, Naropa University and Brown University. In 1974 he started his "life-work" called Ketjak which is made up of four long poems. The last one, Universe, has yet to be finished and was started in 2005.
Blog: [4]
Listen: [5]
Tottel's Literary Magazine:[6]
--Maryanne 00:24, 7 November 2010 (UTC)
Lyn Hejinian
Lyn Hejinian, a San Francisco Bay Area native, has received numerous honors including: a Writing Fellowship from the California Arts Council, a grant from the Poetry Fund, and a Translation Fellowship (for her Russian translations) from the National Endowment of the Arts. She received the sixty-sixth Fellowship from The Academy of American Poets for distinguished poetic achievement at mid-career and was elected an Academy Chancellor in 2006. She has served as editor of Tuumba Press and has been co-editor of the Poetics Journal since 1981. She also co-directs Atelos, a literary project that commissions and publishes cross-genre work of poets. She has authored or co-authored a number of poetry books, including: Saga/Circus, The Fatalist, My Life in the Nineties, A Border Comedy, The Beginner, Happily, Sight (with Leslie Scalapino), The Cold of Poetry, The Cell, My Life, Writing Is an Aid to Memory, and A Thought Is the Bride of What Thinking. Her book of essays on poetry, The Language of Inquiry, is an important text in terms of understanding the precepts of the Language Poets Movement. In her essays, Hejinian explores questions of syntax and relativity, and offers discussions of the current issues in the movement.
Excerpt from Introduction to The Language of Inquiry
Language is nothing but meanings, and meanings are nothing but a flow of contexts. Such contexts rarely coalesce into images, rarely come to terms. They are transitions, transmutations, the endless radiating of denotation into relation. -Lyn Hejinian-
(Poets)
--Madonnawilt 01:21, 7 November 2010 (UTC)
Charles Bernstein
An editor, essayist, and poet, Charles Bernstein has published twenty poetry collections, three books of essays and was co-editor of L=A=N=G=U=A=G=E Magazine along with Bruce Andrews. Besides Ron Silliman, Charles Bernstein is one of the leading names of Language Poetry. He viewed that the style of Language poetry allowed the writer to explore both the "expressive (and non-expressive) features of language to roam in another territory than possible with tamer verse forms." When asked in an interview at the University at Buffalo Charles Bernstein described Language Poetry: "the assumption that a poem must always have the concept of a speaking voice narrating its feeling … well that seemed and still seems an awfully narrow mandate for verbal art. I think we wanted to put the art part back in poetry, which means considering many different ways that one word can follow another, one phrase can collide or merge with the next. And many different types of language. Indeed, to compose poems with widely variant forms of language—to make a rhythm from the variations in the types of language used."
Charles Bernstein is the co-founder and editor of the Electronic Poetry Center for the University at Buffalo and the co-founder of the online audio archive PennSound where he holds the Donald T. Regan chair as a professor of English at the University of Pennsylvania.
Listen: [7]
Electronic Poetry Center: [8]
Charles Bernstein's 60 second lecture:[9]
Charles Bernstein's Web Log [10]
--Maryanne 00:05, 7 November 2010 (UTC)
Bob Perelman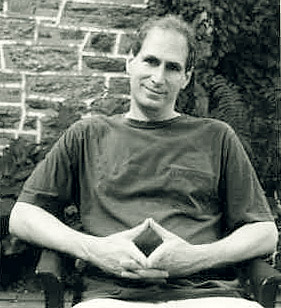 Like many of the Language Poets, Bob Perelman was inspired by William Carlos Williams and his first book Braille(1975) is a series of what he calls "improvisations" which was inspired by Williams. He has published 12 poetry collections and four critical texts which includes The Marginalization of Poetry: Language Writing and Literary History(1996). In it he discusses the history of language poetry, its theories and the effects it could have on the politics of writing. He currently teaches at the University of Pennsylvania as a professor of English.
---
The Poetry Man Interview with Bob Perelman, published in the Spring, 1995 UPenn College of Arts and Sciences Newsletter http://www.writing.upenn.edu/~afilreis/bobp-interview.html
---
Bob Perelman discussing Language Poetry at "Talk Given"
--
Maryanne
00:05, 7 November 2010 (UTC)
---
Barrett Watten
In 2006 Watten helped to publish the first volume of The Grand Piano: An Experiment in Collective Autobiography through This Press. The Grand Piano is a now completed ongoing Autobiographical work that consists of ten volumes written by ten different influential West Coast Language poets. Each volume would include all ten poets writing in an order that changes with each volume. The poets involved were Rae Armantrout, Steve Benson, Alan Bernheimer, Lyn Hejinian, Tom Mandel, Ted Pearson, Bob Perelman, Kit Robinson, Ron Silliman, Barrett Watten himself and his wife Carla Harryman. The Grand Piano was named after a coffeeshop in San Francisco where all the poets involved participated in weekly readings between 1976 and 1979.
Barrett Watten Homepage[11]
The Grand Piano Homepage [12]
Reading at The Grand Piano (1979)
--
Maryanne
01:55, 7 November 2010 (UTC)
Rae Armantrout

Rae Armantrout is considered to be part of the first generation of Language Poets. She was influenced by William Carlos Williams and Denise Levertov and even attended the University of California Berkley to study under Levertov. She currently teaches at the University of California in San Diego and has been publishing poetry collections since 1978. Her book Versed (2009) won National Book Critics Circle Award in 2009 and the Pulitzer Prize in 2010. Though associated with the Language poets she strays outside the lines by focusing most of her work on her experiences in life, which grinds against the ideology of keeping detached. On the surface her work appears approachable with her use of everyday syntax but most of her poetry contains fragmented thoughts, asks many questions of reality, and has been known to bring up topics as complicated as The String Theory. Her poetry has been said to have an underlying proverbial feel that uses everyday experiences and pop culture to its advantage; such as her poem Previews which focuses on the plots of two movies.
Ron Silliman, another name in the Language School, has said about Armantrout's poetry: "the literature of the anti-lyric, those poems that at first glance appear contained and perhaps even simple, but which upon the slightest examination rapidly provoke a sort of vertigo effect as element after element begins to spin wildly toward more radical...possibilities."
SAMPLE WORK
Previews
America
The playboy scion of a weapons company repents. His company, he sees now, is corrupt, his weapons being sold (behind is back) to strong men. Alone, he builds a super weapon in the shape of a man. Now, more power-ful and more innocent than ever before, he attacks.
Happening
The train halts. An engineer tells us we're stopped because we've lost touch with the outside world. Things are happening ahead, but we dont know what they are. This could represent an act of war. we stand in a field nolonger passengers.
Listen: [13]
UC Faculty: [14]

--Maryanne 22:35, 5 November 2010 (UTC)
Techniques and Mediums
Language poetry utilizes a variety of techniques and mediums, often mixing genres and mediums. For instance erasure and write through poetry both utilize existing text. Write-through involves choosing words at random from the text, which results in a spine of the existing work. For instance, one might choose to only include adjectives, verbs or nouns. Alternatively, computer programs can be used to randomly select words. These words can then be rearranged or left in order of appearance in the original work. In the case of erasure poetry, the text is simply whited or blacked out; the resulting empty space results in a visual image that is incorporated into the poem.
Visual imagery is used in other ways as well, by adding art or simply making the arrangement of the text part of the art. This may include gimmicky arrangements or addition of hypertext. Sound, too, is an important element in many language poems. For instance a poet may be very sound focused or, perhaps, he or she may simply decide to forgo normal syntactic rules by eliminating, for instance, all vowels from the text.
Syntactic rearrangements are very popular with language poets. They may try to move the pronoun to the end of the sentence or to simply strike it from the text. Repetition and parallelism are also important styles utilized in language poetry. These are often offered in tandem with syntactic shifts, so that each reproduction of a line is slightly different, giving a different emphasis to the words. All of the techniques discussed here lend themselves nicely to technology, which is why many language poets are tech savvy. Additionally, many of the techniques result in collaborative projects. While write-throughs and erasures involve repurposed text, resulting in multiple authors, online collaborative projects further blur the lines of authorial ownership. --Madonnawilt 04:54, 6 November 2010 (UTC)
Write-through
John Cage, a brief excerpt from "Writing through Howl" (1984)
                      mAdness
                     coLd-water
                      fLats

                     thE
                   braiNs
                  throuGh
                      wIth
                      aNd
               academieS
                       Burning
                    monEy
    
                     maRijuana
                     niGht

                       After
                    endLess
                      cLoud
                     thE
                  motioNless
                       Green
                   joyrIde

                     suN

                      aShcan

                       Brain
                  drainEd of
                      bRilliance

                     niGht

(Filreis)
Here, John Cage has reappropriated Ginsberg's work. By using only selected images, he has created a spine of the original work. Also notice how white space (sorry, blue with lines after my reappropriation) is employed, and how hypertext is utilized to give the original author recognition in the poem. --Madonnawilt 05:57, 6 November 2010 (UTC)
Erasure
Erasure Poetry involves the use of white out or, as in the following example of Austin Kleon's "Black Out Poetry," magic marker. The resulting post-editing product, encompasses not only the remaining text, but the white or black spaces as well. The resulting text becomes not only poetry, but a work of art and a socio-political statement as well.
Link:[15]
Compare Kleon's poetry to the newsprint collage work of this artist, who inserts his own text into newsprint. In this medium, the lines between art and poetry blur as the poet becomes artist and the artist becomes poet.
Photo Courtesy of Columbia Review. "The Last Newspaper," an art exhibit at the New Museum in Soho, "focuses on artists' reactions to the news and how these reactions are incorporated into works of art ... "The Last Newspaper" has taken elaborate and innovative steps to differentiate itself from stereotypically static art exhibits, and instead mirrors the accelerated and ever-changing culture of newsprint" (Columbia Review) --Madonnawilt 03:38, 6 November 2010 (UTC)
Visual
Art by Visual Poet Babi Badalov
Visual Poetry is artistic poetry that uses an arrangement of text and images to create something that is both an art piece and poem. Like a poem and all its components, the images and text in a Visual Poem are all important parts of creating the desired effect.Some poems work by the context in which they are presented while others surround font size, font type, spacing of letters or words, or even the shape the intentionally poem makes, to express the poems meaning. Many visual poems however don't work as just poems and usually cross over into their own category of art. Visual poetry is less about the content of the words and more about the representation of the image the words help to create. Visual poetries purpose it to launch the viewer into a train of thought using what little language is given and the images. Some visual poems use images along with text to create double meanings that give the viewer more space to explore the possibilities of the power of language and context.
Visual Poets: Babi Badalov: [16]
John M. Bennett: [17]
Joan Brossa: [18]

--Maryanne 23:32, 5 November 2010 (UTC)
Sound
Sound poetry is a style that pairs language with various forms of audio accompaniment. The use of sound can range from the sounds of the word themselves in how they are pronounced, the level of volume, and the elongation of sounds, to even the silence between the words. Some sound poets use musical instruments, repetitious sounds such as claps, snapping or foot stamping, or really any form of sound they can find at their disposal that can aid the poem. Sound poetry is entirely meant for performances and is part of experiencing the poem. Some of the beat poets like Allen Ginsberg and William S. Burroughs fell into the category of sound poets.
Poet Ed Sanders performing:
--Maryanne 00:06, 7 November 2010 (UTC)
---
Listen to Jackson Mac Low and Anne Tardos,
"Phoneme Dance In Memoriam John Cage" (1993)
---

A few sample lines from Jackson Mac Low's,
"Antic Quatrains."

Along a tarn a delator entangled a dragline,
Boasting o' tonnages, dogies, ants, and stones
As long as Lind balled Gandas near a gas log
As it late lit rigatoni and a tag line.

Explore Further at UPenn. [19]
--Madonnawilt 01:47, 7 November 2010 (UTC)
Cybertext
John Cage "submitted Finnegans Wake to a series of chance-generated operations (derived from the I-Ching but adapted for the computer on a program called Mesolist), that yielded a 41-page mesostic text, using the string JAMES JOYCE." Cage's mesocrostic project is similar to an acrostic only it runs down the center of the page.
[Ckick Here for Larger Version of Excerpt [20]
In a 1979 radio interview with Klaus Schöning, for IRCAM in Paris, Cage described how this work was created. He noted that he "would look for a word with J in it that didn't have an A because the A belongs on the second line for JAMES. And then a word with A that didn't have an M, and an M that didn't have an E, and an E that didn't have an S and in this way I made a path through the entire book.... [And further] I made the rule of not repeating a syllable that had already been used to express the J of James. So I kept an index, a card index ... [and reduced Joyce's 626-page text to] 41 pages" (Perloff). This very visual work, was then made into a radio drama (Hörspiel ) called Roaratorio, which used computerized dubbing of city sounds: such as cars, fire engines and construction equipment. For further discussion and examples see Perloff's page. [21] --Madonnawilt 03:39, 6 November 2010 (UTC)
Repetition and Parallelism
Language poets often place lists of words or phrases together without comment. Then repeat them, with slight alterations and rearrangements. This rearrangement then becomes the narration, as various connections get teased out by the stream of consciousness. In the following example, the first stanza begins with phrases from the news and overheard snippets of conversation. They get rearranged as the "I" and "me" are teased out in the following stanzas.
Madonna Wilt
America
two day sale
bread 2 for $6.00
hamburger $4.99 lb
gas tank bleeding yellow
congress halts neighbor's short sale
lenders guilty of rubber stamping foreclosures
the bank came today to take the house that Keith built.
America amerIca amerIca amer I ca amerIca aMErIca aMErIca
built
built america
gas built aMErica
bleeding America I
gas bleeding yellow ME
i gas bleeding yellow me take
gas take America america take i
came to take the house AmerIca built
America gas came to take the house me
America built the house to take gas I me amerIca
AMErIca
two day sale
bread 2 for $6.00
haMburgEr $4.99 lb
gas tank bleedIng yellow
congress halts neighbor's short sale
lenders guIlty of rubber staMping foreclosurEs
the bank caME today to take the house that Keith buIlt
the bank came today to take the house bleeding America
the bank came to take the house today america gas sale on
--Madonnawilt 03:37, 6 November 2010 (UTC)
---
Language Poetry Experiments
Try a Languge Poetry experiment or Join an Online Collaborative Project. Here are some links for websites that offer suggestions and writing ques for language poetry experiments as well as some sites where writers can join in a collaborative writing project.

Ideas for Poetry Experiments [22]
Compiled by Charles Bernstein from Bernadette Mayer & workshop's Experiments list, and various other sources.

About.com Word Games and Collaborative Poetry [23]
Links for collaborative poetry and various other word game and experimental sites.

Venus Poetry Project [24]
Click on object in the Venus painting to see list of poems published there. Add your own or edit existing ones. Old versions of poems are archived to prevent vandalism.

Mass Poetry [25]
A long running poem. You are given the last line. Then after you add a line, you can read through the entire poem.
References
Electronic Poetry Center by University at Buffalo. "Charles Bernstein Interview" Bradford Senning http://home.jps.net/~nada/bernstein.htm
Filreis, Al and Shawn Walker. "Introduction to the "Language Poetry" movement." Audio. University of Pennsylvania. Fall, 2010. 8 Oct. 2010 http://writing.upenn.edu/~afilreis/88v/chap900a.html
… "Jackson Mac Low and Anne Tardos, "Phoneme Dance In Memoriam John Cage."" (1993) mp3. U. Penn: Fall, 2010. 4 Nov. 2010. http://writing.upenn.edu/~afilreis/88v/chap900a.html
... "Jackson Mac Low, a sampling of stanzas from "Antic Quatrains."" U. Penn: Fall, 2010. 4 Nov. 2010. http://writing.upenn.edu/~afilreis/88v/maclow-antic.html
... "John Cage, a brief excerpt from "Writing through Howl"" (1984), 8 Oct. 2010. http://writing.upenn.edu/~afilreis/88v/cage-ginsberg.html
... "Language Poetry, the legacy of "new poetries," and the contemporary avant garde." audio: "Al Filreis and Shawn Walker on aspects of "language poetry" and contemporary avant-garde writing." U. Penn: Fall, 2010. 8 Oct. 2010. http://writing.upenn.edu/~afilreis/88v/chap900a.html
Kleon, Austin. "Texas Poet Twists Newsprint Into Prose". Poetry Foundation. video. http://www.poetryfoundation.org/journal/videoitem.html?id=239
Novas Poéticas de Resistência: o século XXI em Portugal. (New Poetics of Resistance: the Twenty-First Century in Portugal). project mural. photo. http://www.ces.uc.pt/projectos/novaspoeticas/pages/english/homepage.php
Penn Sound. Symposium on Contemporary Poetry. http://media.sas.upenn.edu:8080/ramgen/afilreis/engl088/12_7.rm
Perloff, Margorie. "John Cage's Dublin, Lyn Hejinian's Leningrad: Poetic Cities as Cyberspaces", Marjorie Perloff.com, (Delaware University Press) http://epc.buffalo.edu/authors/perloff/cyber.html
Poetry Foundation. "Ron Silliman." 2010. 13 Oct. 2010 http://poetryfoundation.org/bio/ron-silliman
... "Visual Poetry Today by Geof Huth". 11.6.08 http://www.poetryfoundation.org/journal/article.html?id=182397
Poets.org. "Rae Armantrout". http://www.poets.org/poet.php/prmPID/1134 ... "Lyn Hejinian". http://www.poets.org/poet.php/prmPID/396
Textetc. "L=a=n=g=u=a=g=e P=o=e=t=r=y" C. John Holcombe 2007 http://www.textetc.com/modernist/language-poetry.html